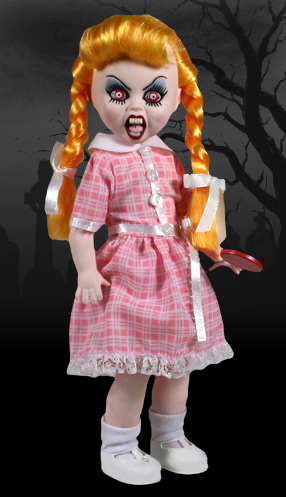 Living Dead Dolls Series 7
Date of death: 4/5/1908 at 8:00pm
Chipboard Poem
Edit
Wrath - n 1. Rage, Passionate displeasure.
2. See Bad Bette Jane.
Death Certificate
Edit
Bad Bette Jane was often red in the face,
A screaming little spoiled rotten disgrace.
Always allowing her rage to thrive,
So now she must be dismembered alive.
Accessories
Edit
Lollipop
Fun Facts
Edit
Her deathdate is the birthdate of actress Bettie Davis, the actress who starred in 'Whatever happened to Baby Jane?'.
Wrath's name- 'Bad Bette Jane' is a combination of the names Bette Davis and 'Baby Jane'
Her coffin paper is red the color of wrath.
Ad blocker interference detected!
Wikia is a free-to-use site that makes money from advertising. We have a modified experience for viewers using ad blockers

Wikia is not accessible if you've made further modifications. Remove the custom ad blocker rule(s) and the page will load as expected.