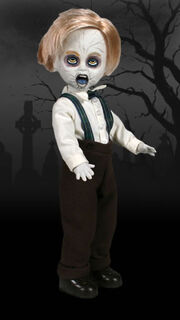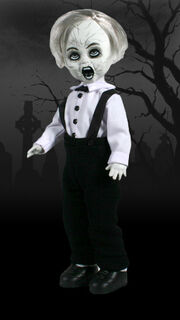 Living Dead Dolls Series 5
Date of death: 10/31/1926 at 1:26pm
Chipboard Poem
Edit
Cast - Vincent Vaude
Play - Series 5
Director - Ed Long & Damien Glonek
Scene - He dreamed of performing on the grand old stage
An amazing escape artist of a tender young age
So small Vincent Vaude locked himself in a trunk
By the time someone found him his body sure stunk.
Death Certificate
Edit
Name of Deceased - Vincent Vaude
Last Occupation - Escape Artist
Cause of Death - Suffocation
Fun Facts
Edit
Shares a death date with escape artist Harry Houdini.

He also shares a death date with series 32 dolls Ye Ole Wraith and Nicolas.

He is one of four male dolls with blond hair. (the other three are Hansel, Otis, and Cracked Jack).
Ad blocker interference detected!
Wikia is a free-to-use site that makes money from advertising. We have a modified experience for viewers using ad blockers

Wikia is not accessible if you've made further modifications. Remove the custom ad blocker rule(s) and the page will load as expected.