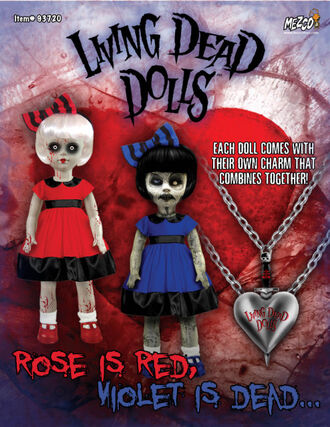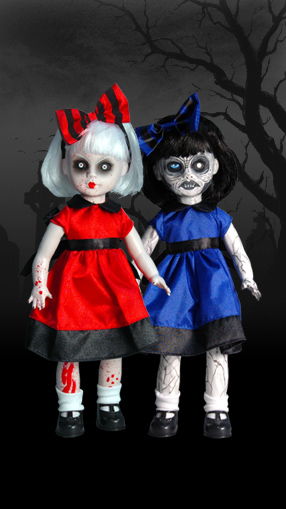 Living Dead Dolls Twisted Love Set
Date of death: 2/14/09
Twisted Love are a set of two dolls, Rose and Violet.
Chipboard Poem
Edit
Rose is blood red,
Violet is cold blue,
Revenge can be sweet,
When love is not true.
Death Certificate
Edit
Rose:
Rose is red,
Like the color of blood
She will gladly share it with you
In exchange for your love.
Violet:
Strangled on Valentines Day
then buried in dirt.
She arose one year later
one Hell of a flirt.
Fun Facts
Edit
Each doll comes with a charm, Rose a sword, and Violet a heart. The two can be combined together and worn around the neck..
Deathdate is the second youngest.
Rose comes in a red coffin, while Violet in blue.
First Two-Pack Exclusives to be in individual coffins.
Some fans belive they are the first LGBT dolls.