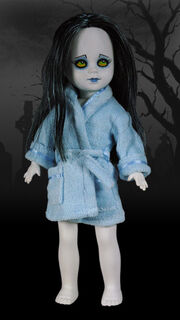 Living Dead Dolls Series 17
Date of Death: N/A
Chipboard Poem
Edit
Minus a kidney, in a tub full of ice. Will someone find her in time? Will one kidney suffice?
Death Certificate
Edit
Her mother always told her
"Never accept a drink!"
However this little rebel
Was not one to think.
So off to the strange party
Did this foolish girl run
With visions of laughter
And way too much fun.
The next morning she awoke
Buried in a tub full of ice.
Missing one kidney
One hell of a price.
Accessories
Edit
Kidney
Fun Facts
Edit
She is one of 5 dolls with a human organ as an accessory (a kidney). Bride of Valentine (heart), Purdy, Goria, and Peggy Goo (brains) are the others.
under her robe where the blood spot is there is a cut from when her kidney was removed
Ad blocker interference detected!
Wikia is a free-to-use site that makes money from advertising. We have a modified experience for viewers using ad blockers

Wikia is not accessible if you've made further modifications. Remove the custom ad blocker rule(s) and the page will load as expected.