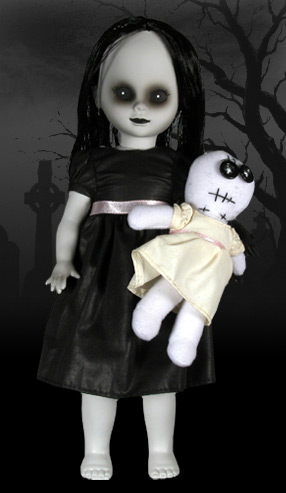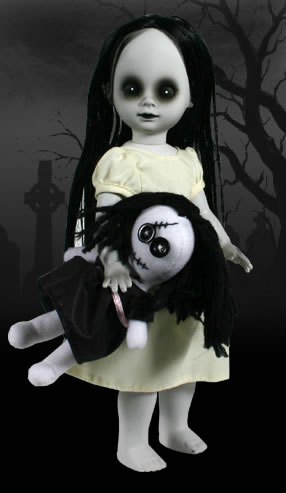 Living Dead Dolls Series 8
Date of death: Unknown
Death Certificate
Edit
Not a name or a home,
She wanders alone.
Cold as the arrival of the winter's first frost,
We feel her inside,
And know we can't hide.
She is the creature only known as The Lost.
Accessories
Edit
White version comes with black dolly
Black version comes with white dolly
Fun Facts
Edit
She and Angus Littlerot came with variants without the other dolls in series 8 to have them.

Incidently they both appeared in Resurrection Series X.

"With The Lost, our whole concept was to make her seem blank. The ghost you would find at the end of your dark hallway at night staring back at you. She is The Lost. She is no one, but she is every one of us. She is the face in the crowd that would never stand out but then you have to take a second look, because you are not quite sure you saw her. Sometimes the simplest things have the biggest impacts."~ Damien.
Some fans compared her to Samara/Sadako from The Ring/Ringu.
She, Macumba, and Gregory are the only main series dolls to have dolls as an accessory.
Ad blocker interference detected!
Wikia is a free-to-use site that makes money from advertising. We have a modified experience for viewers using ad blockers

Wikia is not accessible if you've made further modifications. Remove the custom ad blocker rule(s) and the page will load as expected.