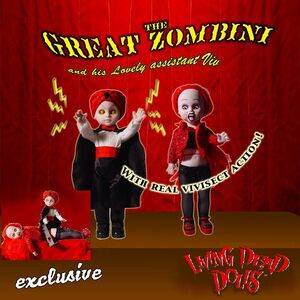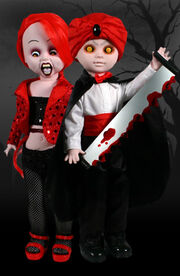 Living Dead Dolls Exclusives
Date of Death
Edit
Viv: 3/14/1975
Zombini: 3/5/1975
Chipboard Poem
Edit
The Great Zombini has a trick for you all,
His lovely assistant split by the blade of his saw.
Death Certificate
Edit
The Crowd had gathered to see a trick,
But Zombini opted to make them sick.
As his assistant lie trapped in a box, afraid,
He severs her body with the cut of his blade.
Fun Facts
Edit
Viv is one of two doll to go in two peices, the other is The Headless Horseman.
The Great Zombini and Viv 2-pack was exclusively available at Tower Records.
This is the first (and currently only) two pack with different deathdates