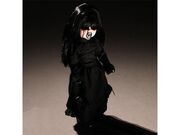 Chipboard Poem
Edit
Should you ever find yourself alone in The Dark
Surrounded by shadows closing in like a shark
You can try and run to turn on the lights
But inside the dark it is forever night
Death Certificate
Edit
The Dark has been around for as long as there has been light
Locked in a constant struggle, eternally they fight
No eyes are needed to stare into the blackened abyss
But beware when she opens her mouth to give you a kiss
Fun Facts
Edit
One of the few dolls to have 'the' in their name.
Her face mold is the same as the Hemlock and Honey set to give her the gouged eye look.
Ad blocker interference detected!
Wikia is a free-to-use site that makes money from advertising. We have a modified experience for viewers using ad blockers

Wikia is not accessible if you've made further modifications. Remove the custom ad blocker rule(s) and the page will load as expected.