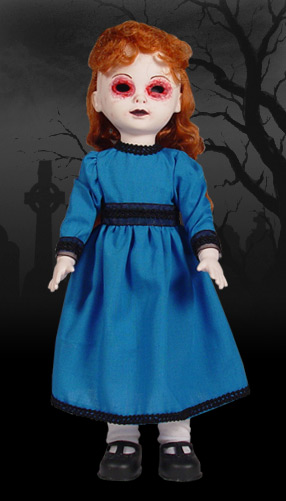 Living Dead Dolls Series 12
Date of Death: 5/15/1886 at 11:22am
Chipboard Poem
Edit
Tessa was a tattletale
Who gossiped all she saw,
Until she got her eyes gouged out
Nerve endings and all.
Death Certificate
Edit
After they removed her eyes
She bled a bucket of tears.
Now she haunts them every night
Exploiting all their fears.
Accessories
Edit
Fun Facts
Edit
She is the first doll with gouged eyes, and one of three to do so. The other dolls are Isabel from Series 16 and Sospirare from Series 25.
Tessa died on the same day as Emily Dickenson, who was afraid of going blind.
Appears in Resurrection Series X. Since Resurrection dolls all have glass eyes, Tessa comes with them disembodied, and they can be put into her empty sockets.
Ad blocker interference detected!
Wikia is a free-to-use site that makes money from advertising. We have a modified experience for viewers using ad blockers

Wikia is not accessible if you've made further modifications. Remove the custom ad blocker rule(s) and the page will load as expected.