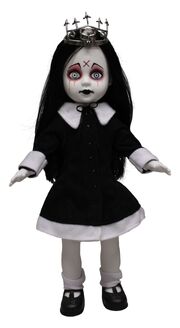 Chipboard Poem
Edit
A bittersweet sixteen,
being the living dead.
Sadie can cry at her party,
or so it's been said.
Death Certificate
Edit
The very first one of many to come.
Sixteen years later a party for some
when she died there wasn't much of a care.
Now she does what no one would dare.
Fun Facts
Edit
Sweet 16 Sadie is the first incarnation of a main series Sadie, since Series 7; a little over 10 years ago (at the time Series 28 was released).
She is a nod to the Living Dead Dolls' Sweet sixteen.