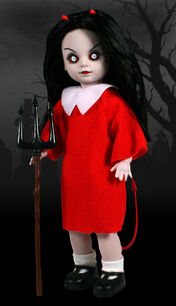 Living Dead Dolls Series 1
Date of Death: 6/6/1966
Chipboard Poem
Edit
This little devil has a
Pitchfork she uses.
She gives you a poke
Instead of little bruises.
Death Certificate
Edit
Sweet little Sin
Consumed by flames at seven,
Better to forever serve in hell,
than grow up and play in heaven.
Accessories
Edit
Pitchfork
Fun Facts
Edit
First doll with horns and a tail.
Her death date is 6/6/66, a homage to the number of the beast
Appeared in Resurrection Series III.
Returned in the 13th Anniversary set with altered features and a 13th anniversary tattoo.
A limited Celebrating Sin doll was released for the 13th Anniversary of Living Dead Dolls.
Has appeared as both a mini doll and a "Creepy Cuddlers" plush doll.
Has sometimes been mistaken for fellow series-mate Sadie, due to the dress style they both wear.
Ad blocker interference detected!
Wikia is a free-to-use site that makes money from advertising. We have a modified experience for viewers using ad blockers

Wikia is not accessible if you've made further modifications. Remove the custom ad blocker rule(s) and the page will load as expected.