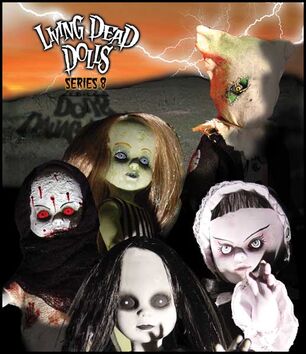 The eight series of Living Dead Dolls was released in 2004.
Other Information
Edit
All Retired (Laid to Rest)
The Lost (White Dress): $100-$150
The Lost (Black Dress): $50-$100
Hollow: $25-$50
Angus Littlrot: $20-$40
Grace of the Grave: $20-$40
Faith: $15-$35
Fun FactsEdit
The Lost was made in two versions. The "Black Lost" wore a black dress with her dollie in a white dress, while the "White Lost" wore a white dress with her dollie in a black dress. There were two "Black Losts" to each "White Lost."
Angus Littlrot had a sack over his head which covered one of three face variants (Burned face version, Gashed face version and screaming version).