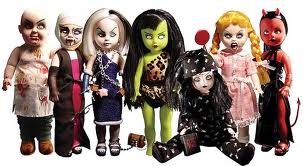 The seventh series of Living Dead Dolls was released in 2004.
Other Information
Edit
All Retired (Laid to Rest)
Sloth: $25-$50
Lust: $25-$45
Wrath: $20-$40
Vanity: $20-$40
Greed: $20-$40
Envy: $15-$35
Gluttony: $15-$35
The inspiration for this series was the Seven Deadly Sins.
Bedtime Sadie is one of three alternate Sadies in the main series (Others are Schooltime Sadie and Sweet 16 Sadie)
This series is the only one to have more than 6 dolls.
The poster for this series is similar to the Se7en film's poster.the colors of their coffin paper are the colors of the seven deadly sins.
Ad blocker interference detected!
Wikia is a free-to-use site that makes money from advertising. We have a modified experience for viewers using ad blockers

Wikia is not accessible if you've made further modifications. Remove the custom ad blocker rule(s) and the page will load as expected.