Series 34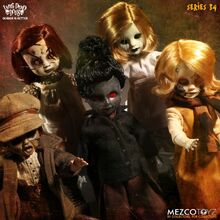 The time has come to tell a tale...
Welcome to the picturesque town of Wassen Hole, East Dakota. It's a quiet place with a secretive past, a past with terrible secrets that have been long buried. But some things refuse to stay buried forever and in Wassen Hole the secret of their sins have risen, to exact spectral vengeance and set right the wrongs done so long ago.
From deep within a collapsed mine called the Devil's Vein rise five spirits— deceived by a greedy town and foresaken by their families—bringing hell to those who have trespassed upon their fated souls.
Fun Facts
Edit
Theme is based on stories based around abandoned mines, with each doll based on a role in a mine.
With the exception of Ash Lee, this is the fifth series to not have death dates.
Random dolls in a case included a piece of a "gold" nugget.
Ad blocker interference detected!
Wikia is a free-to-use site that makes money from advertising. We have a modified experience for viewers using ad blockers

Wikia is not accessible if you've made further modifications. Remove the custom ad blocker rule(s) and the page will load as expected.