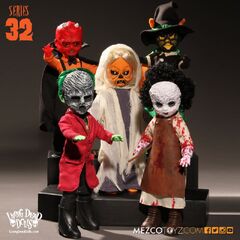 October once again draws near, The brisk night air is filled with fear, Five walk in shadow, 'Neath the glow of the moon, Series 32 is coming soon.
Fun Facts
Edit
Dolls are based on Halloween, like Series 16 and Series 18; however unlike 16 and 18, the theme is based more on Halloween in the past.
Series 32 is the only series thus far to use beta names.
Every doll in Series 32, except for Ernest Lee Rotten has death dates on Halloween night, but the years varies.