Hopping Vampire (China)
Banshee
(Ireland)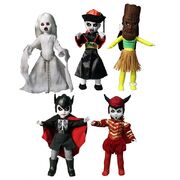 Milu (Hawaii)
Spring Heeled Jack (England)
Mephistopheles (Germany)
Fun Facts
Edit
This is the first series that male dolls are greater than female dolls 3:2.
The series' theme is demons from around the world (see above for the country of each dolls origin).
They're Death Certificates has the date, location, and category instead of the usual date of death on them.
This is the first series since Series 22 to include variants.
Ad blocker interference detected!
Wikia is a free-to-use site that makes money from advertising. We have a modified experience for viewers using ad blockers

Wikia is not accessible if you've made further modifications. Remove the custom ad blocker rule(s) and the page will load as expected.