The twenty-second series of Living Dead Dolls was released in October 2011
A limited edition black, white, and blood red variant set was made available on the Mezco Direct store.
Fun Facts
Edit
Each doll in series 22 marks the release of an iconic zombie movie.
This series was introduced with the phrase: "When There's No More Room In Hell, The Dolls Shall Walk The Earth." This is a parody of Dawn of the Dead's famous quote "When there's no more room in hell, the dead shall walk the Earth." Incidently the chipboard poem art is based on Dawn of the Dead's theatrical poster.
Each doll has a 13th anniversary stamp on the back of their neck, and also comes in a blue 13th anniversary coffin.
Patience Xero was available online only; her regular version was sold by various online retailers worldwide, her variant was sold exclusively with the series 22 variant set on Mezco Direct.
*
Market Value:
Regulars:
the real prices!
Ava: doll only $28-$88 Sealed
Goria: doll only $30-$52 sealed
Roxie: doll only $20-$37 sealed
Peggy Goo: doll only $20-$37 sealed
Menard: doll only $5-$37 Sealed
Variants:
Variant Patience Xero: doll only $32-$99 sealed
Variant Goria: doll only $50-$125 sealed
Variant Ava: doll only $51-$89 sealed
Variant Roxie: doll only $20-$99 sealed
Variant Peggy Goo: doll only $35-$80 sealed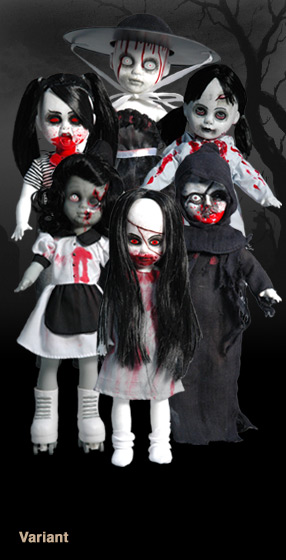 Variant Menard: $45-$75
Ad blocker interference detected!
Wikia is a free-to-use site that makes money from advertising. We have a modified experience for viewers using ad blockers

Wikia is not accessible if you've made further modifications. Remove the custom ad blocker rule(s) and the page will load as expected.