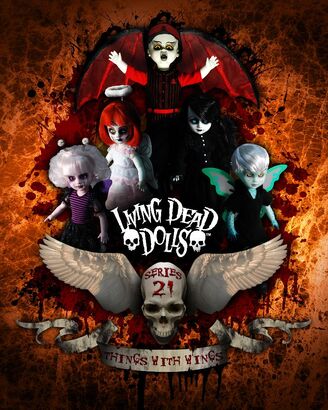 The twenty-first series of Living Dead Dolls was released in May, 2011
Fun Facts
Edit
This series is referred as "Things with Wings."
This series was the first to come in 13th anniversary coffins, featuring a blue, wood-like pattern similar to the Day of the Dead coffins with the number thirteen written in various ways all over the coffin and lid.
The dolls in this series all have thirteenth anniversary tattoos.
Market Price
Edit
Tenebre: $80-$200
Absynth: $50-$70
Pixie: $30-$50
Sunday: $25-$40
Desmodus: $25-$35