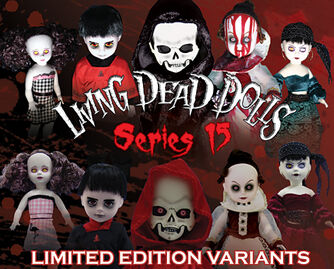 The fifteenth series of Living Dead Dolls was released in 2008.
Other Information
Edit
Retired (Laid to Rest)
Regulars:
Death: $75-$125
Bathory: $80-$200
Gypsy: $60-$90
Flamingo: $30-$70
Judas: $30-$50
Variants:
Variant Death: $100-$140

Variant Bathory: $45-$110
Variant Gypsy: $50-$100
Variant Flamingo: $30-$60
Variant Judas: $30-$50
Bathory is the third doll from the main line to be explicitly based on a real person, in this case Countess Elizabeth Báthory.
A set of limited-edition variants was exclusive to the Mezco Direct store, with 666 sets available worldwide.
This is currently the only main series to have two males instead of one in a series.
Ad blocker interference detected!
Wikia is a free-to-use site that makes money from advertising. We have a modified experience for viewers using ad blockers

Wikia is not accessible if you've made further modifications. Remove the custom ad blocker rule(s) and the page will load as expected.