Living Dead Dolls Series 20
Date of Death: January 20th, 1913
Chipboard Poem
Edit
Light a candle but once a year
And speak the name Savannah dear
Before your eyes it will appear
Her painted face so full of fear.
Death Certificate
Edit
Savannah was strangled
On the day of the dead
"It was a jealous boyfriend."
Someone once had said.
But the strangler was a ghost
Never to be found
And Savannah still lies silent
Deep beneath the ground.
Accessories
Edit
Fun Facts
Edit
Each doll comes in a newly designed coffin with wood-like graphics.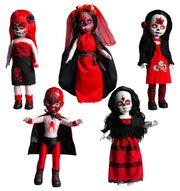 Ad blocker interference detected!
Wikia is a free-to-use site that makes money from advertising. We have a modified experience for viewers using ad blockers

Wikia is not accessible if you've made further modifications. Remove the custom ad blocker rule(s) and the page will load as expected.