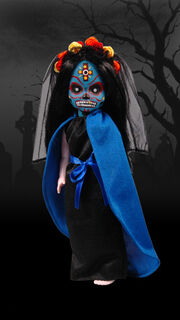 Living Dead Dolls Series 20
Date of Death: July 3rd, 1985
Chipboard Poem
Edit
She loved celebrating Dia de los Muertos
so much she prayed it come every day.
The only ear to hear her pleas was El Diablo's
so now once a year she rises to play.
Death Certificate
Edit
Unintentionally bartering her soul for eternity
She made a deal with the devil quite unwittingly
Accessories
Edit
Fun Facts
Edit
Each doll comes in a newly designed coffin with wood-like graphics.
on the LDD website Santeria and Savannah have each others death certificates(they must have been mixed up)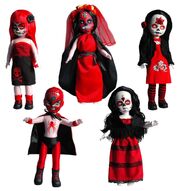 Ad blocker interference detected!
Wikia is a free-to-use site that makes money from advertising. We have a modified experience for viewers using ad blockers

Wikia is not accessible if you've made further modifications. Remove the custom ad blocker rule(s) and the page will load as expected.