Living Dead Dolls Exclusives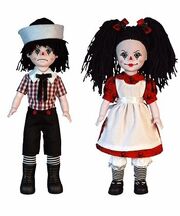 Date of death: 9/7/1915
Chipboard Poem
Edit
Your screams to us are like candy.....
Death Certificate
Edit
A Putrid girl and an icky boy
Destruction and chaos bring them joy
Two black hearts bound by fate
Forever festering in blissful hate
Fun Facts
Edit
Deathdate is the day that Raggedy Ann was patented, in which they are based off of.
Rotten Sam is one of 6 male dolls with long hair along with Macumba, Otis, Jack the Ripper, Beast, and Edgrr being the other 5.

He and Macumba are also the only male dolls so far with long hair.
Ad blocker interference detected!
Wikia is a free-to-use site that makes money from advertising. We have a modified experience for viewers using ad blockers

Wikia is not accessible if you've made further modifications. Remove the custom ad blocker rule(s) and the page will load as expected.