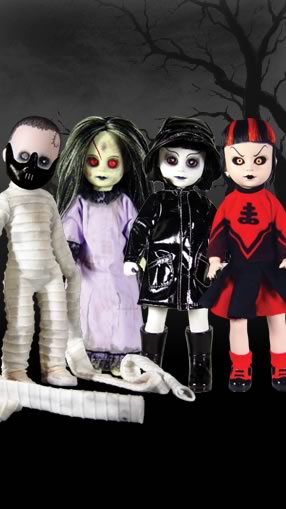 Fun Facts
Edit
Value

Regulars

Posey: $300-$400
Sybil: $330-$500
Kitty: $170-$250
Lottie: $170-$200

Variants

Posey: $800-$2,500
Sybil: $900-$1,500
Kitty: $300-$400
Lottie: $720-$850

Resurrection dolls have glass-like eyes.
This is the first all-girl ressurection series (this was later done in Res. 7).
The rooting on the variant Posey is intentionally thinner than that of the regular resurrection Posey.
Not all of the Lotties came with the patent leather umbrella. The was a chance that you could have not recieved one and on some of the Lottie dolls there would be a quote on the back of one of her rain boots that says "Lucky You" or "Unlucky You". The "Lucky You" means you lucky enough to have the umbrella version and the "Unlucky You" means you're unlucky and didn't get the version with the umbrella. There is no way to tell if you have either of these versions unless you unbox the doll because they have the grasping hand regardless.
Res Sybil is the 2nd doll to feature the Hannibal Lecter mask. (1st was Little Boe Creep)
The regular dolls are limited to 450 pieces world wide and the variants are limited to 50 pieces world wide.
Ad blocker interference detected!
Wikia is a free-to-use site that makes money from advertising. We have a modified experience for viewers using ad blockers

Wikia is not accessible if you've made further modifications. Remove the custom ad blocker rule(s) and the page will load as expected.