Living Dead Dolls Series 23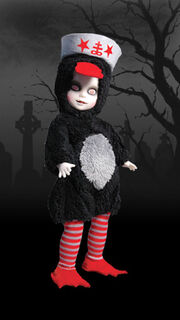 Date of Death: March 4,1982
Cause of Death: Poisoned
Chipboard Poem
Edit
Every tea party needs a dizzy duck
And Quack is excited to arrive
But this play date will find her out of luck
A celebration she won't survive
Death Certificate
Edit
This little ducky got dizzy
After she drank a cup of tea.
Next her limbs became heavy
And then she just couldn't see.
Soon all she longed for was sleep
Heavy, eternally dark, and deep.
Accessories
Edit
Betsy comes with a teapot while the other four dolls come with tea cups. Each doll with a tea cup comes with a table leg which can be put on a coffin lid to make a tea table.
Fun Facts
Edit
The New York Ripper, directed by Lucio Fulci, (AKA Lo squartatore di New York) was released on her death date. The killer in this movie uses a duck-like voice.
Her name corresponds with the sound that ducks make.
The hair underneath her duck suit is blonde and curled.
Her hat and the beak (or bill) sewn onto her costume resemble a duck.