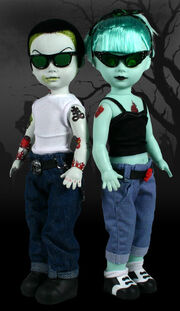 Living Dead Dolls Exclusives
Date of death: 1/19/1998
Chipboard Poem
Edit
One is crude,
The other rude.
With a sh*t load of tattoos,
They died to lose.
Death Certificate
Edit
Fast and frightening
With an eight ball curse,
To hell they ride
In their hot rod hearse.
Fun Facts
Edit
The Psycho Billy and Jilly 2-pack was exclusively available at Tower Records.
Their motif is loosely based on the "Psychobilly", a type of Goth that is often affliated with the 1950's.
This is one of the chipboard poems that have curse words in them, this one is the word shit , or sh*t.