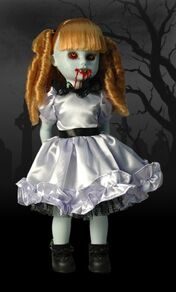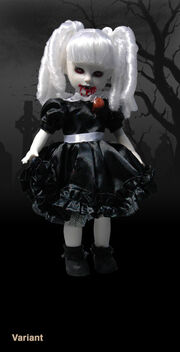 Date of Death: September 20, 1607
Cause of Death: Not Specified
Chipboard Poem
Edit
Little Orchid
Is a vampire kid
Who so wanted to be a spook
But how do you feed
When the substance you need
Makes you want to puke
Death Certificate
Edit
Orchid is a little vampire girl
But the taste of blood makes her hurl
Because she feels ill
She never gets her fill
And is the unluckiest ghoul in the world
Accessories
Edit
Fun Facts
Edit
Many fans believe she is based off the vampire child Claudia from "Interview with a vampire".
She has also been produced as a rag doll.
Each doll comes in a variant black and white outfit with red blood.
Her problem with not being able to consume blood may be bulimia.