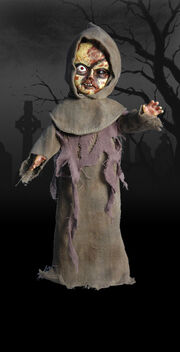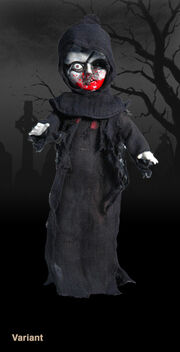 Living Dead Dolls Series 22
Date of Death: 7/18/1980
Chipboard Poem
Edit
Trapped on an island
Cursed with voodoo
The dead are among us
And they want to eat you
Death Certificate
Edit
Convinced this sickness was caused by a disease
Menard tried to answer the dying pleas.
But when he got too close to one of the condemned
They ripped out his throat and made him one of them.
Accessories
Edit
Fun Facts
Edit
Date of death: July. 18th, 1980 - Zombi 2 (also known as Zombie, Island of the Living Dead, Zombie Island & Zombie Flesh Eaters)

Each doll comes in a variant black and white outfit with red blood.
Ad blocker interference detected!
Wikia is a free-to-use site that makes money from advertising. We have a modified experience for viewers using ad blockers

Wikia is not accessible if you've made further modifications. Remove the custom ad blocker rule(s) and the page will load as expected.