Date of Death: 6/26/1937
Cause of Death: Not Specified
Chipboard Poem
Edit
N/A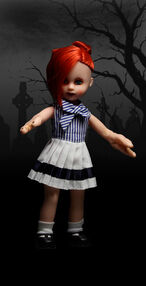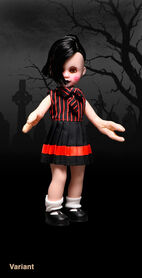 Death Certificate
Edit
Lydia was billed a freak
That with her family traveled around.
But when the sideshow reached the next town
This doll could not be found.
Boiled in a pot, what the locals wanted was lobster.
What they got was the living dead
The worst kind of monster!
Fun Facts
Edit
In Series 30's promo poster each of the dolls had a small description, Lydia's said 'The Freakish Offspring of Man and Lobster' under her name.
Her name is a nod to the real life congenital disorder Ectrodactyly, which makes a person hand and/or feet take the shape of a lobster's claw.
Her arms are noticibly longer than the other dolls due to her status as a lobster girl.
Her death date is the birthday of The Lobster Boy Grady Stiles.