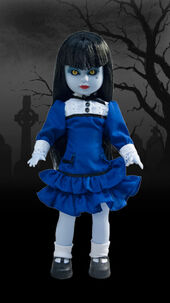 Date of Death: February 28th, 1865
Cause of Death: Drowned
Chipboard Poem
Edit
By the light of the moon
rises this once dead chick
to unleash her bloody rage
in silvery light she's a lunatic.
Death Certificate
Edit
Slain at half moon bay
Under the blue moon's light
Her body was weighed down with chains
and submerged out of sight.
Fun Facts
Edit
Her name means moon in latin, in which appeared in the background of her chipboard poem.
Her beauty mark under her left eye is in the shape of a cresent moon.