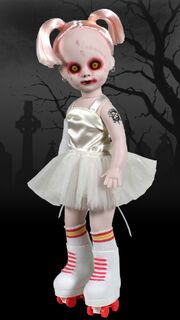 Living Dead Dolls Series 4
Date of death: 8/17/1978 at 6:25am
Chipboard Poem
Edit
With a broken leg
And roller skates,
She wants to be
Your new playmate.
Death Certificate
Edit
She skated towards the concrete stairs,
Hearing the many shouted dares.
Then she tumbled straight to Hell,
Into her own little grave our dear Lulu fell.
Accessories
Edit
Fun Facts:
Edit
First doll without eyebrows.
First doll with a tattoo.
First and only doll with a compound fracture.
First doll with roller skates,which Peggy Goo later also had.
Appeared in the Fashion Victims series.
Appeared in Resurrection Series II.
Has appeared as a mini doll.
Becky, Ed Longs wife, was the inspiration for this doll.
Ad blocker interference detected!
Wikia is a free-to-use site that makes money from advertising. We have a modified experience for viewers using ad blockers

Wikia is not accessible if you've made further modifications. Remove the custom ad blocker rule(s) and the page will load as expected.