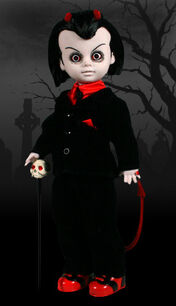 Living Dead Dolls Series 2
Date of death: 4/30/1966 at 12:01am
Chipboard Poem
Edit
A cane, a contract,
Your hope quite grim.
Adopt this boy
And hell comes with him.
Death Certificate
Edit
He died by flame,
But has returned.
His clothes quite cool,
And souls will burn.
Accessories
Edit
A cane topped with a red-eyed skull
Fun Facts
Edit
His death date is the day that The Church of Satan was formed.
If you say his name fast, it sounds like "Lucifer".
The last line of his Death Certificate is a reference to the Bible. Revelations 6:8 "And I looked, and behold a pale horse: and his name that sat on him was Death, and Hell followed with him."
Appeared in Resurrection Series II.
Has appeared as a mini doll./ He is one of the most popular doll's in ldd history.
Ad blocker interference detected!
Wikia is a free-to-use site that makes money from advertising. We have a modified experience for viewers using ad blockers

Wikia is not accessible if you've made further modifications. Remove the custom ad blocker rule(s) and the page will load as expected.