Living Dead Dolls Alice in Wonderland
"We're all mad here." –The Cheshire Cat
Join the Living Dead Dolls as they journey down the rabbit hole into Wonderland.
Four of the most popular Living Dead Doll characters have gone through the looking glass and been reimagined as characters from Wonderland: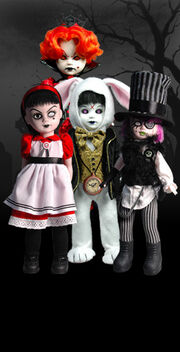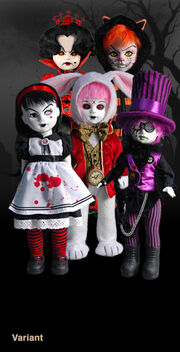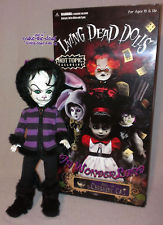 Staring: Inferno as the Red Queen
Sadie as Alice
Eggzorcist as The White Rabbit
Sybil as the Mad Hatter
Jinx as the Cheshire Cat
Fun Facts
Edit
The Cheshire Cat's smile is glow in the dark.
These dolls were released at the same time Tim Burton's film Alice in Wonderland.
The Queen of Hearts appearance is similar to the Red Queen in Tim Burton's film.
The Hot Topic exclusive Cheshire Cat's fur color is the same color as Walt Disney's Cheshire Cat from his 1951 film Alice in Wonderland.
The variation of Sadie as Alice's appearance is a reference to the very popular video game "American McGee's Alice".