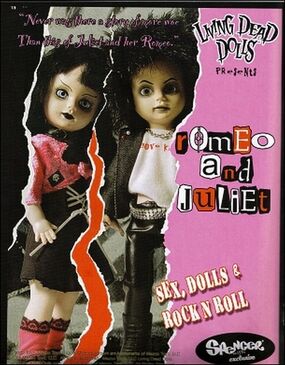 Living Dead Dolls Presents
Date of death: February 2, 1979
Chipboard Poem
Edit
"Death lies on her like an untimely frost
Upon the sweetest flower of all the field"
Consuming his poison, thinking all love is lost
And with a dagger through her heart, their fate is sealed
"Never was there a story with more woe
Than this tale of Juliet and her Romeo"
Death Certificate
Edit
"Sealed with a righteous kiss
A dateless bargain to engrossing death"
Vacant eyes stare in undead bliss
With star-crossed lovers breathing their final breath
Fun Facts
Edit
Shares a deathdate with Sid Vicious.
The Romeo and Juliet 2-pack is a Spencer Gifts exclusive.
Romeo is a punk rocker and Juliet is goth.
Ad blocker interference detected!
Wikia is a free-to-use site that makes money from advertising. We have a modified experience for viewers using ad blockers

Wikia is not accessible if you've made further modifications. Remove the custom ad blocker rule(s) and the page will load as expected.