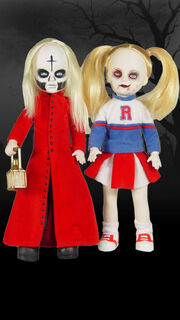 Living Dead Dolls Presents
Date of Death
Edit
N/A
Chipboard Poem
Edit
N/A
Death Certificate
Edit
N/A
Fun Facts
Edit
Otis is one of four male blonds (the other three are Hansel, Vincent Vaude, and Cracked Jack).

He is also one of 6 males with long hair with Beast, Macumba, Jack the Ripper, Rotten Sam, and Edgrr being the other 5.

This is the only LDD two pack to be in a LDD square box.