Living Dead Dolls Presents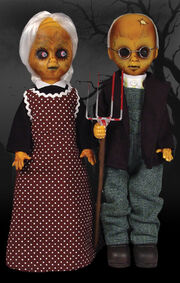 Date of Death
Edit
N/A
Chipboard Poem
Edit
No chipboard poem was composed for this set.
Death Certificate
Edit
Deep in the hell that is the rural Midwest,
Two corpses stood, no emotions expressed.
The woman looks empty in her unholy stare,
The man just vacant in this American nightmare.
Unable to leave this torment, no matter how much they wanna,
For they are now a piece of Living Dead Dolls Americana.
Fun Facts
Edit
The American Gothic 2-pack was a Spencer Gifts exclusive.
Along with their rerelease and Series 30, they are the only dolls to not have a chipboard poem.
The Living Dead Dolls Presents... line is a spin-off from the main line. The dolls are based on well-known characters from horror and gothic art, film, and literature.Came in a double coffin. Based on the painting American Gothic by Grant Wood. Exclusive to Spencer Gifts.Variants are a bloody version.
Ad blocker interference detected!
Wikia is a free-to-use site that makes money from advertising. We have a modified experience for viewers using ad blockers

Wikia is not accessible if you've made further modifications. Remove the custom ad blocker rule(s) and the page will load as expected.