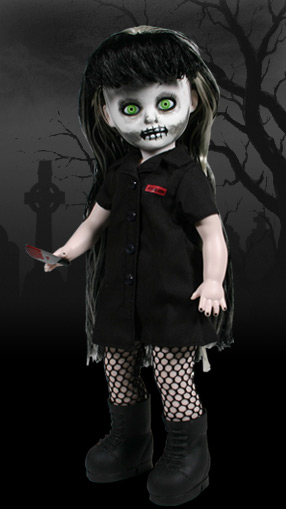 Living Dead Dolls Series 11
Date of death: 4/1/1998 at 12:12am
Chipboard Poem
Edit
Painted face frozen,
Murder in sight.
To some certain death,
Others shear fright.
Death Certificate
Edit
Nobody cares just how Killbaby died,
For all they know, the coroner lied.
Now she runs free-carving, and killing,
Loving every ounce of blood she's spilling.
Accessories
Edit
Knife
Fun Facts
Edit
She is currently the only doll that never really died.
Has appeared in Resurrection VII.
Her Resurrection variant wears a shirt that says Coffin. This is a reference to Damian and Ed's band of the same name.
Ad blocker interference detected!
Wikia is a free-to-use site that makes money from advertising. We have a modified experience for viewers using ad blockers

Wikia is not accessible if you've made further modifications. Remove the custom ad blocker rule(s) and the page will load as expected.