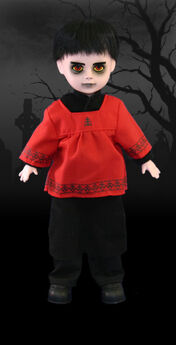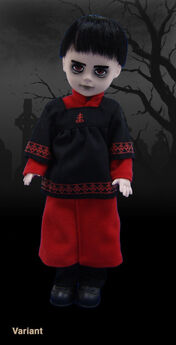 Living Dead Dolls Series 15
Date of death: 01/30/1969
Chipboard Poem
Edit
Judas was charged
with ringing the bells
at Pandemonium's alter
where the dark one dwells
Death Certificate
Edit
When the stained glass shattered
into a razor sharp rain
Judas stood beneath it
Oh what a shame.
Accessories
Edit
Piece of talking board.
Fun Facts
Edit
Each dolls in series 15 has a variant version that is available through Mezcodirect.com . Each doll comes with a piece of a "Spirit board". With all five dolls from series 15 you can put the board together.Variants are limited to 666 dolls world wide.
Ad blocker interference detected!
Wikia is a free-to-use site that makes money from advertising. We have a modified experience for viewers using ad blockers

Wikia is not accessible if you've made further modifications. Remove the custom ad blocker rule(s) and the page will load as expected.