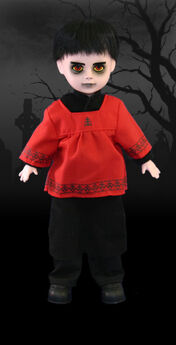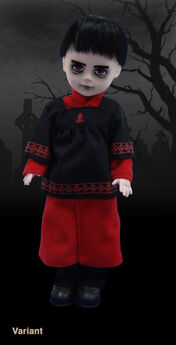 Date of death: 01/30/1969
Cause of death: Stood under a shattering stained glass window.
Chipboard Poem
Edit
Judas was charged
with ringing the bells
at Pandemonium's alter
where the dark one dwells
Death Certificate
Edit
When the stained glass shattered
into a razor sharp rain
Judas stood beneath it
Oh what a shame.
Accessories
Edit
Fun Facts
Edit
Each doll in series 15 has a variant version that is available through Mezcodirect.com.
Each doll comes with a piece of a "Spirit board". With all five dolls from series 15 you can put the board together.
Variants are limited to 666 dolls world wide.