Living Dead Dolls Series 23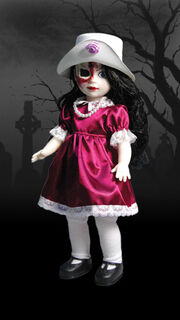 Date of death: 12-26-1974
Chipboard Poem
Edit
What happened to Jennocide was a tragedy
There was acid in her cup instead of tea
Some say that is what dissolved her flesh clean
But if you ask me I say it was just the caffeine
Death Certificate
Edit
A long slow burn with a venomous liquid
Once it melted her face she had died
But it is impossible to keep a good doll down
And she arose from the dead as Jennocide
Accessories
Edit
Betsy comes with a teapot while the other four dolls come with tea cups. Each doll with a tea cup comes with a table leg which can be put on a coffin lid to make a tea table.
Fun Facts
Edit
Her name is based on the word Genocide.
The doll has one eye that is black, and one normal eye.
Half of her face is skull and bone.
Fans sometimes refer her as 'Jenny.'
Ad blocker interference detected!
Wikia is a free-to-use site that makes money from advertising. We have a modified experience for viewers using ad blockers

Wikia is not accessible if you've made further modifications. Remove the custom ad blocker rule(s) and the page will load as expected.