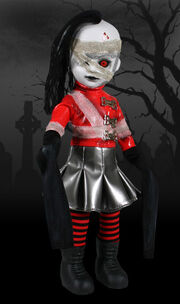 Living Dead Dolls Exclusives
Date of Death
Edit
3/9/1994 at 6:45am
Chipboard Poem
Edit
Here she comes...
Missing one eye.
But what she sees
Does kill her.
That every doll
Must die.
Death Certificate
Edit
Jeepers had one eye through which,
She would occasion a gruesome sight.
The other shone only beauty,
That everything was quite alright.
So she plucked out the peeper she thought was so unwell.
But it turns out she was wrong,
Now all she sees is truly hell.
Fun Facts
Edit
Jeepers was a Club Mez exclusive and was limited to 1666 pieces.
Available in 2 versions, 250 variant Jeepers dolls were thrown into the mix.
Jeepers comes blind-boxed so you have to open her to reveal which version you have.
Ad blocker interference detected!
Wikia is a free-to-use site that makes money from advertising. We have a modified experience for viewers using ad blockers

Wikia is not accessible if you've made further modifications. Remove the custom ad blocker rule(s) and the page will load as expected.