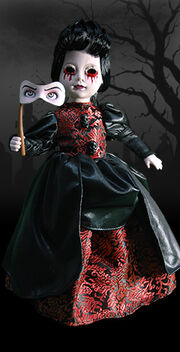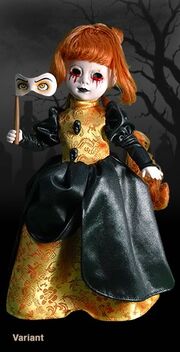 Living Dead Dolls Series 16
Date of death: October 30, 2005
Chipboard Poem
Edit
She arrives at your door
Wearing a mask of deceit
For what lies underneath
Is her Halloween treat
Death Certificate
Edit
"Do I really need these disgusting eyes?"
Isabel cried.
"I am much prettier wearing this disguise,"
Isabel sighed.
And with the sharp end of a stick
Isabel pried,
And with one last bloody flick
Isabel died
Accessories
Edit
Mascarade Mask & Pumpkin Basket
Fun Facts
Edit
Is one of three dolls to have gouged eyes, the others being Tessa and Sospirare.
She is the most famous among female living dead doll fans.
Isabel's death is considered suicide as she did her injury to herself in which it caused her to die .
In the promo pic, Isabel's hair was similar to American Gothic female.
Ad blocker interference detected!
Wikia is a free-to-use site that makes money from advertising. We have a modified experience for viewers using ad blockers

Wikia is not accessible if you've made further modifications. Remove the custom ad blocker rule(s) and the page will load as expected.