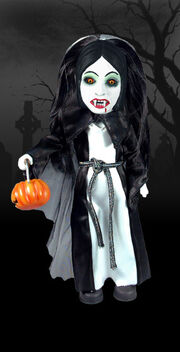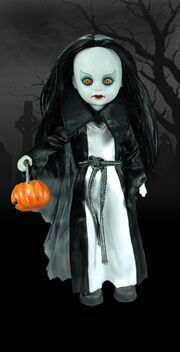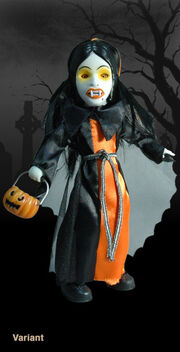 Living Dead Dolls Series 18
Date of Death: Oct 31st 1970
Chipboard Poem
Edit
With her favorite vampire mask
And blood on her mind.
Escape from Ingrid is a task
Her heartbeat hard to find.
Death Certificate
Edit
Ingrid caught a bat
And bit off its head.
The bat had rabies
Now Ingrid is dead.
Accessories
Edit
Vampire Mask
Fun Facts
Edit
Each doll comes in a variant orange and black outfit limited to only 275 pieces.
Ingrid's mask is similar style to the count Dracula boy's mask from Warner Bro's 2007 horror film Trick 'r Treat.
Ingrid is the third vampire doll to be released.
Ingrid's appearance without the mask is very similar with another Vampiress Lily Munster from The Munsters.
Ad blocker interference detected!
Wikia is a free-to-use site that makes money from advertising. We have a modified experience for viewers using ad blockers

Wikia is not accessible if you've made further modifications. Remove the custom ad blocker rule(s) and the page will load as expected.