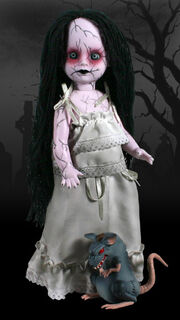 Living Dead Dolls Series 6
Date of death: 12/20/71
Chipboard Poem
Edit
Shy little Hush and her pet rat Shriek.
Dwelling in the sewer, these two are sure to reek.
Death Certificate
Edit
Shy little Hush thought rats were so pretty,
So it was her good fortune she lived by the city.
It was easy to sneak into the sewer each night,
To offer her pets a cheesy delight.
But one silly slip landed Hush on her head,
It was right there she drowned and the rats were well fed.
Accessories
Edit
Large Rat
Fun Facts
Edit
Hush's hair is made of yarn as does calico but it is thinner yarn than calico's(she, Calico, Captain Bonney, Daisy Slae and Agrat Bat Mahlat are the only female dolls with yarn hair)
Deathdate is the day Roy Oliver Disney, Brother of Walt and Co-founder of the Disney company, died.
Ad blocker interference detected!
Wikia is a free-to-use site that makes money from advertising. We have a modified experience for viewers using ad blockers

Wikia is not accessible if you've made further modifications. Remove the custom ad blocker rule(s) and the page will load as expected.