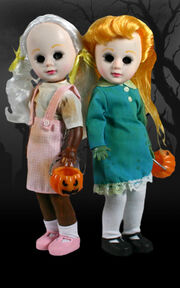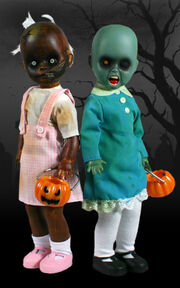 Living Dead Dolls Exclusives
Date of Death
Edit
10/31/2003
Chipboard Poem
Edit
Trick or treat
Your blood smells sweet
Give us something dead to eat.
Death Certificate
Edit
One gloomy night gathering candy,
Their poisoned sweets were unforeseen.
Left to wander the streets forever,
They treat every night now like its Halloween.
Fun Facts
Edit
Value: $30-$50
Hemlock and Honey was a Marz Distribution exclusive.
Hemlock is blue, Honey is brown.
This set is also known as Trick and Treat.
First all-female two-pack.
Ad blocker interference detected!
Wikia is a free-to-use site that makes money from advertising. We have a modified experience for viewers using ad blockers

Wikia is not accessible if you've made further modifications. Remove the custom ad blocker rule(s) and the page will load as expected.