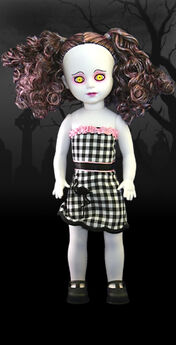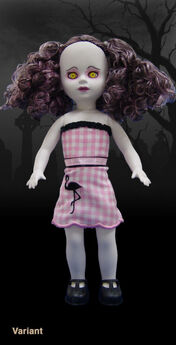 Living Dead Dolls Series 15
Date of death: Oct 24th 1984
Chipboard poem
Edit
Flamingo has internal injuries
And a stare that's set on kill
Pink is her favorite color
Murder her biggest thrill
Death Certificate
Edit
Flamingo ate some poison mushrooms
and thought that she could fly.
She climbed the nearest flagpole
and let out an awkward cry.
"It's a mistake" her friends did plead
She let go and knew just why.
Had she tried to do it from the ground
She wouldn't have had to die.
Accessories
Edit
None
Variant
Fun Facts
Edit
Shares a death date with actress Edith Massey, who starred John Waters' movie Pink Flamingos.
Each doll in Series 15 has a variant version that is available through Mezcodirect.com . Each doll comes with a piece of a "Spirit board". With all five dolls from series 15 you can put the board together.
Her death is similar to Sunday's- both died after climbing to a high place and jumping off believing that they could fly.
Ad blocker interference detected!
Wikia is a free-to-use site that makes money from advertising. We have a modified experience for viewers using ad blockers

Wikia is not accessible if you've made further modifications. Remove the custom ad blocker rule(s) and the page will load as expected.