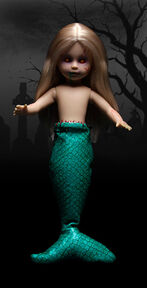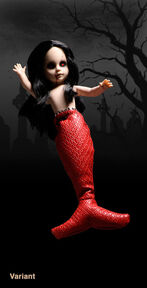 Date of death: 11/14/1822
Chipboard Poem
Edit
N/A
Death Certificate
Edit
To be a mermaid princess was always Eeriel's wish
Now she's cobbled together- part mammal, part fish
From the FeeJee Islands, touring across the land
Come view this atrocity through the fingers of your hand
Fun Facts
Edit
In the Series 30 promo poster there was a small description under each doll's name, FeeJee was 'The Captured Queen of The Sea.'
Loosely based on the famous hoax The Fiji Mermaid.
First doll to be topless.
Her final name is based on Ariel from The Little Mermaid.
First doll to not actually have legs, along with Wurm.
Ad blocker interference detected!
Wikia is a free-to-use site that makes money from advertising. We have a modified experience for viewers using ad blockers

Wikia is not accessible if you've made further modifications. Remove the custom ad blocker rule(s) and the page will load as expected.