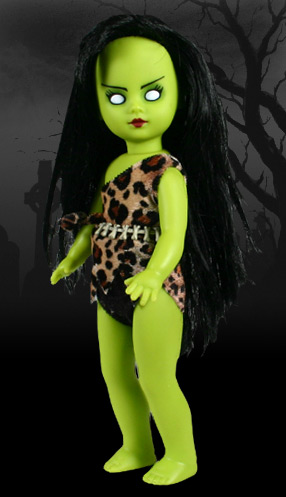 Living Dead Dolls Series 7
Date of death: 4/22/1923 at 7:30pm
Chipboard Poem
Edit
Envy - n 1. A feeling of antagonism towards someone because of some Good which she is enjoying but which one does not have oneself.
2. See Eve-A-Go-Go.
Death Certificate
Edit
Eve believed the grass outside her jungle was much greener,
So the happiness of all the other girls only made her meaner.
But deep down in hell she no longer feels the jungle heat,
For she is put in freezing water from her head down to her feet.
Accessories
Edit
Fun Facts
Edit
Her deathdate is the birthdate of actress and pinup model Bettie Page.
Her coffin paper is green the color of envy.
Ad blocker interference detected!
Wikia is a free-to-use site that makes money from advertising. We have a modified experience for viewers using ad blockers

Wikia is not accessible if you've made further modifications. Remove the custom ad blocker rule(s) and the page will load as expected.