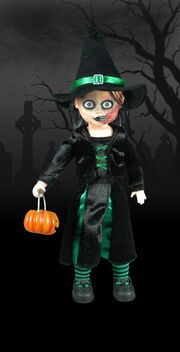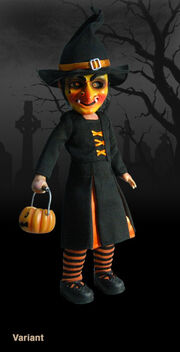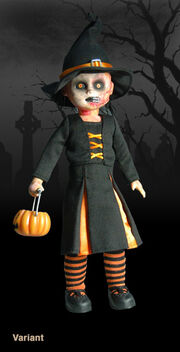 Living Dead Dolls Series 18
Date of Death: May 26, 1647
Chipboard Poem
Edit
Branding her as a witch was their mistake
Only Ember knew her costume was fake
But the townspeople accused her
Bloodied and bruised her
And in the end she was burned at the stake
Death Certificate
Edit
A trick or treating our Ember did go
Flying on a broom with her black cat in tow,
Getting her candy by casting a spell
"'A witch!"' from below the children did yell.
She was captured and brought to a judge
Who with Halloween he did hold a grudge,
"'Thou shalt not suffer a witch to live"', he declared
And consumed by flames is how poor Ember fared.
Accessories
Edit
Pumpkin Basket
Witch Mask
Fun Facts
Edit
Each doll comes in a variant orange and black outfit limited to only 275 pieces.
Her name corrasponds with the fire that have killed her.
Is the first witch doll to be release commercially.
Ember shares the same name and a firey death with Ember McLain a ghost character from Nickelodeon's animated series Danny Phantom.
Ad blocker interference detected!
Wikia is a free-to-use site that makes money from advertising. We have a modified experience for viewers using ad blockers

Wikia is not accessible if you've made further modifications. Remove the custom ad blocker rule(s) and the page will load as expected.