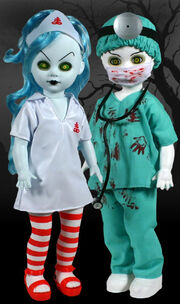 Living Dead Dolls Exclusives
Date of Death
Edit
10/23/1993
Chipboard Poem
Edit
With needle and scalpel
They want to penetrate.
Their only diagnosis
Is to slowly amputate.
Death Certificate
Edit
Always in trouble for playing their game,
Doctor, nurse and the devil to blame.
Now that they are dead it is no longer a sin,
For down here in hell the doctor is in.
Fun Facts
Edit
Value: $30-$60
Dr. Dedwin and Nurse Necro was a Diamond Previews exclusive 2-pack.
Dr. Dedwin was mentioned in Vanity's Death Certificate.
Nurse Necro is the second to wear thigh highs, the other is Gretel.
Ad blocker interference detected!
Wikia is a free-to-use site that makes money from advertising. We have a modified experience for viewers using ad blockers

Wikia is not accessible if you've made further modifications. Remove the custom ad blocker rule(s) and the page will load as expected.