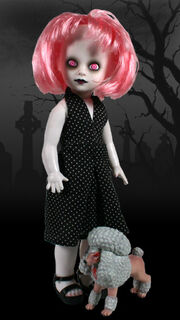 Living Dead Dolls Series 6
Date of death: 2/26/04
Chipboard Poem
Edit
Dottie Rose and her pet poodle Hun.
As dead as they are, they still have some fun.
Death Certificate
Edit
Dottie was highly allergic to the sun,
But she loved sundresses and her pet poodle Hun.
Late one morning Hun ran out into the day,
Dottie followed fast, dying on her way.
Accessories
Edit
Demonic Poodle
Fun Facts
Edit
Has the same disease as the children from 'The Others.'
There are two versions of Dottie Rose, one with eyebrows and without.
Ad blocker interference detected!
Wikia is a free-to-use site that makes money from advertising. We have a modified experience for viewers using ad blockers

Wikia is not accessible if you've made further modifications. Remove the custom ad blocker rule(s) and the page will load as expected.