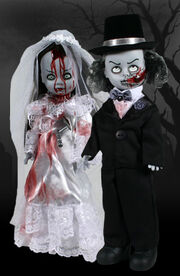 Living Dead Dolls Exclusives
Date of death: 8/9/1969
Chipboard Poem
Edit
As punishment for the sins of their crime,
they shall remain together till the end of time.
It is hereby pronounced that this bride and groom,
Be wed into blasphemy as Died & Doom.
Death Certificate
Edit
I hereby certify that on the Ninth day
of August, 1969, at 12:01 A.M.,
Died & Doom have been pronounced legally deceased.
Fun Facts
Edit
Value: $50-$100
Died and Doom was Tower Records' first Living Dead Dolls exclusive 2-pack.
The names of these dolls were purposely rhymed with "Bride" and "Groom."
Appeared in Resurrection Series IV.
Ad blocker interference detected!
Wikia is a free-to-use site that makes money from advertising. We have a modified experience for viewers using ad blockers

Wikia is not accessible if you've made further modifications. Remove the custom ad blocker rule(s) and the page will load as expected.