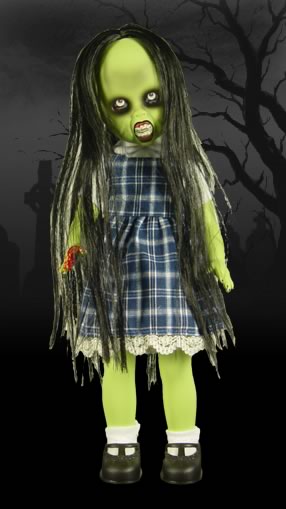 Living Dead Dolls Series 14
Date of death: April 18, 1858
Chipboard Poem
Edit
A well-mannered little ghoul
With a crooked set of undead teeth
Fitted with a set of braces that
Outshine the stench that lies beneath
Death Certificate
Edit
Sweet little rotten Dee K.
Loved to finger paint throughout the day
In her victim's blood she would dip her finger
And draw putrid scenes of the bodies that linger
Accessories
Edit
Fun Facts
Edit
1858 was the year that Norman W. Kingsley, a gifted dentist and writer, made his mark on orthodontics with his Treatise on Oral Deformities.
If you say her name outloud you get the word Decay.
Ad blocker interference detected!
Wikia is a free-to-use site that makes money from advertising. We have a modified experience for viewers using ad blockers

Wikia is not accessible if you've made further modifications. Remove the custom ad blocker rule(s) and the page will load as expected.